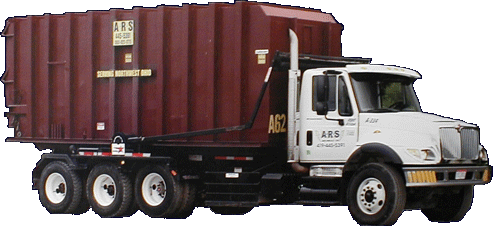 Providing COMPLETE waste handling & recycling solutions is part of what we do and who we are.
 A.R.S. offers roll-off containers with capacities ranging from 10 to 45 cubic yards. In addition to the 10 yard to 45 yard roll-off open-top containers; we also offer 42 yard compactor containers, compactors, balers and pre-crushers. We realize that flexibility is the key to meeting our customers' needs.
That is why we offer roll-off services for small and large jobs, and for long or short term projects. Whether you are building single family homes, or large scale commercial developments, A.R.S.'s cost effective roll-off containers will meet the needs of your project.
We provide roll-off services to a wide range of private businesses, corporations, and to the public and residential sectors. Meeting all of your waste needs means on-time delivery, flexible scheduling, and versatile equipment. A.R.S also provides emergency and 24 hour services. If you need a solution to a need relating to removal of waste or recycling and your tired of the run-around from large national trash haulers, give us a call. We work for you.
roll-off, waste, compactor, recycling, cubic yards